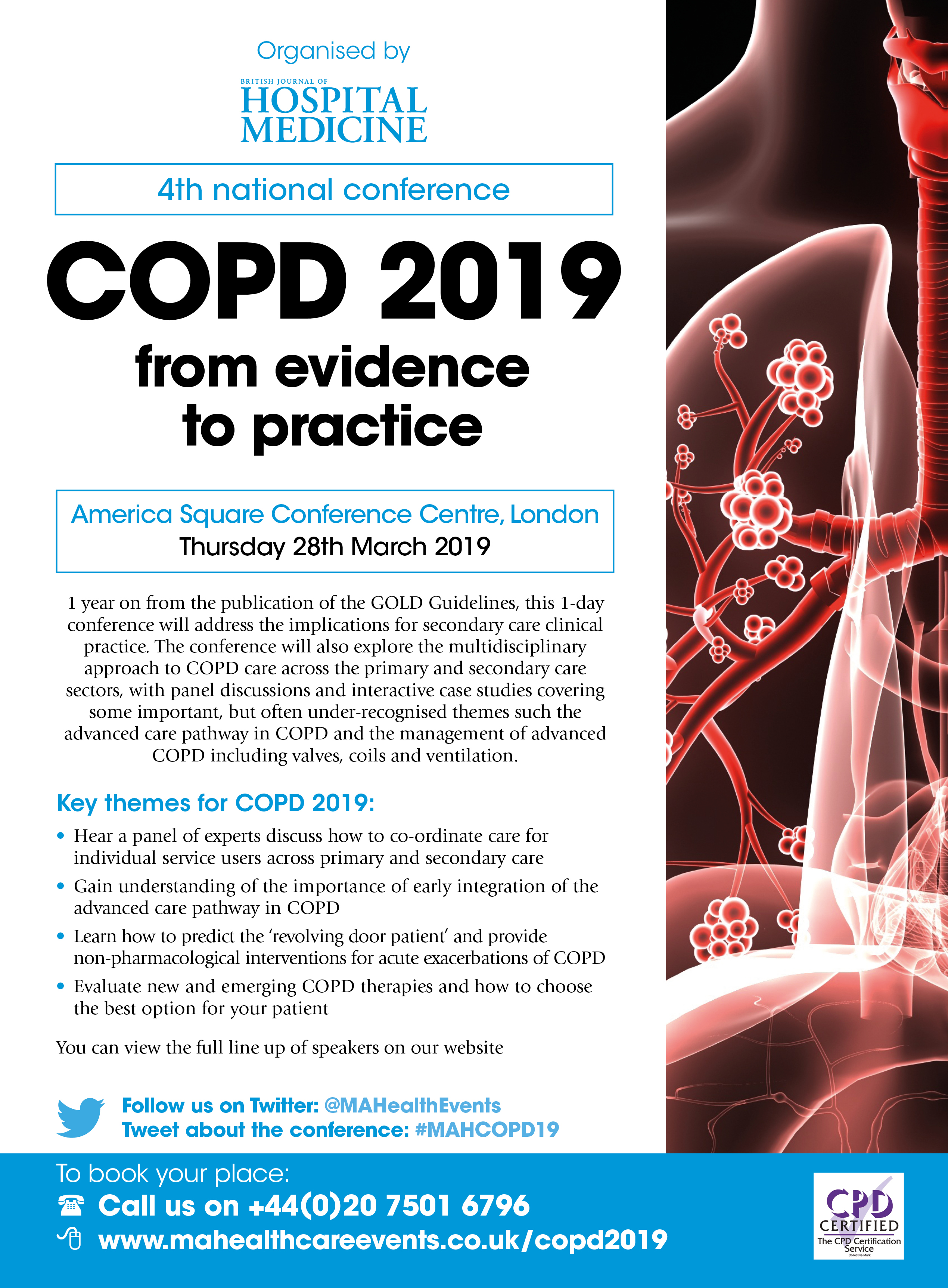 America Square Conference Centre, London
MA Healthcare is delighted to offer the PCRS an exclusive 20% discount for COPD 2019!
1 year on from the publication of the GOLD Guidelines, this 1-day conference will address the implications for secondary care clinical practice. The conference will also explore the multidisciplinary approach to COPD care across the primary and secondary care sectors, with panel discussions and interactive case studies providing delegates with lots of practical information to take away from the meeting.
We hope you will be able to join us in central London to share your ideas and help advance COPD services in the UK.
Highlights include:
Explore the implications for secondary care of the updated GOLD Guidelines.
Find out how to disseminate updates in inhaled therapies and choose the best option for your patient.
Hear a panel of experts discuss how to co-ordinate care for individual service users across primary and secondary care.
Evaluate new and emerging COPD therapies and the use of combination bronchodilators
Learn how to predict the 'revolving door patient' and provide non-pharmacological interventions for acute exacerbation of COPD
Gain understanding of the importance of early integration of the advanced care
Pathway in COPDShare and exchange ideas with leading practitioners in the field
Our exclusive offer will be distributed on a first come first serve basis. Book now to avoid disappointment!
For more information please visit our website: www.mahealthcareevents.co.uk/COPD2019 or contact Georgia Peart: 020 7501 6796 or Georgia.peart@markallengroup.com
Event Date:
Thursday, 28th March 2019
Derivation:
Commercial organisation produced