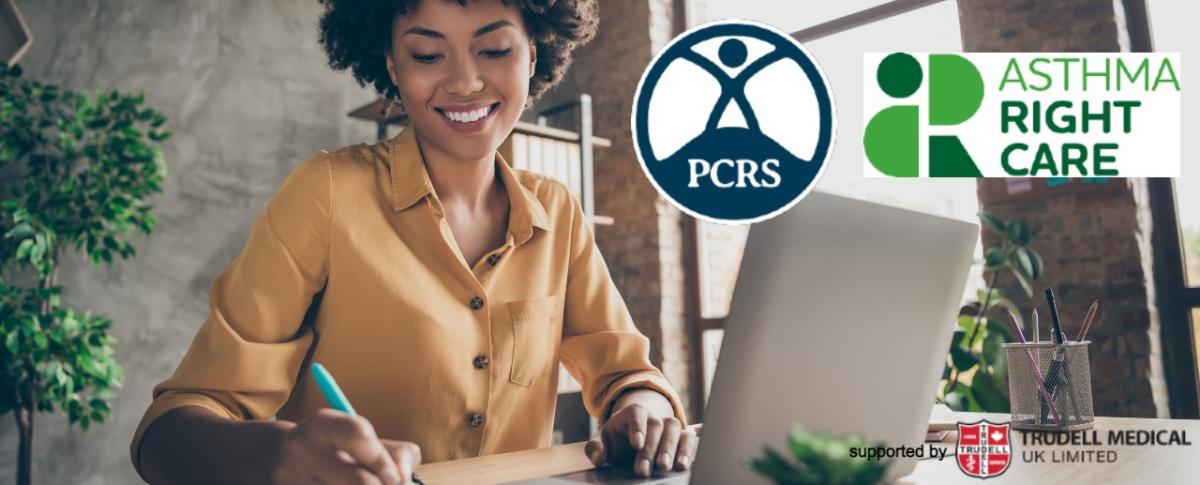 Watch on Demand
Asthma Right Care 'Question Time'
4th July 2022, 18:00 - 19:00
PCRS invite you join our Asthma Right Care 'Question Time' webinar with our panel of thought leaders and clinical experts from across primary, community and integrated care.
In 2016/17 there were over 77,000 hospital admissions due to asthma and every 10 seconds someone is having a potentially life-threatening asthma attack. On average three people die from an asthma attack every day.[1] Yet according to the 2019 National Review of Asthma Deaths (NRAD) 2 in every 3 asthma deaths could be prevented by more effective care[2]. Studies also show that patient perceptions can be key barrier to effective control - for example some patients do not take their asthma seriously, some view coughing and wheeziness as part of living with asthma[3],[4]. Others fail to take medication when symptoms are absent and some believe that good control is achieved simply by treating symptoms and avoiding deterioration[5]. How can we as clinicians help to counter some of these misconceptions. How can we more effectively, help patients to control their condition, what conversations should we be having with our patients, what treatments and regimes can we promote and how can we encourage a change of approach to asthma management?
We will be taking questions in advance via social media our online form or please email your questions to info@pcrs-uk.org. We will also be taking questions from the audience on the day, but the earlier you get your question in, the better!
Watch on Demand
---
References
[1] All stats from Asthma UK (https://statistics.blf.org.uk/) (Last accessed May 2022)
[2] National Review of Asthma Deaths, RCP (https://www.rcplondon.ac.uk/projects/national-review-asthma-deaths) Last Accessed May 2022
[3] Holgate ST, Price D, Valovirta E. Asthma out of control? A structured review of recent patient surveys. BMC Pulm Med 2006; 6: Suppl. 1, S2. https://pubmed.ncbi.nlm.nih.gov/17140420/
[4] Natalie Bidad, Neil Barnes, Chris Griffiths, Rob Horne European Respiratory Journal 2018 51: 1701346; DOI: 10.1183/13993003.01346-2017 https://erj.ersjournals.com/content/51/6/1701346
[5] Halm EA, Mora P, Leventhal H. No symptoms, no asthma: the acute episodic disease belief is associated with poor self-management among inner-city adults with persistent asthma. Chest 2006; 129: 573–580 https://pubmed.ncbi.nlm.nih.gov/16537854/
---
Speakers
Deborah Leese
Deborah qualified as a pharmacist in 2000 and has had a varied career in community pharmacy, various training roles and since 2009 has worked in primary care. In 2016 she qualified as an independent prescriber and chose respiratory as her clinical area of interest. She became lead pharmacist for respiratory for Sheffield CCG in 2016 and has led on the development of many guidelines and medicines optimisation initiatives for the city. She has been on the PCRS service development committee since early 2019 and has recently joined the ARC core team. She is also on the committee for the South Yorkshire Respiratory Interest Group.
Katherine Hickman
Katherine is a GP in Bradford and Respiratory Lead for West Yorkshire and Harrogate Health and Care Partnership and Leeds CCG. She is Vice-Chair of the Primary Care Respiratory Society (PCRS) and Primary Care Lead for the National Asthma and COPD programme. She is also leading on Asthma Right Care for PCRS and is passionate about improving and standardising the care of patients with respiratory disease both locally and nationally.
Darush Attar-Zadeh
A pharmacist based in the community and primary care; specialising in the field of treating tobacco dependency and AsthmaRightCare. Darush has presented at various national & international conferences (including the PCRS, IPCRG, ERS, Clinical Pharmacy Congress). Darush was part of the London Clinical Senate Helping Smokers Quit programme. In his role as respiratory lead pharmacist (Barnet CCG & RightBreathe), Darush managed to lead a medicines management service to winning the pharmacist award in respiratory services 2016. In 2019 Darush was awarded PCPA GP Pharmacist runner up, recognised for pharmacological/non-pharmacological interventions. He runs group sessions with patients and clinicians.
The poster Darush and his community pharmacist colleagues (Royal Pharmaceutical Society - North West London) presented at PCRS 2017 was recognised and achieved a best practice poster award. Darush enjoys running and raising money for respiratory & cardiac charities. One of his main missions is to reduce health inequalities caused by tobacco and spends a lot of his time teaching in deprived locations across the UK.
Frances Barrett
Frances has worked in the respiratory arena for over 20 years, initially as a long term conditions (LTC) nurse specialist with responsibility for long term respiratory conditions amongst other long term conditions in general practice, then as a respiratory nurse specialist setting up and running a community based pulmonary rehabilitation programme before taking up a respiratory care advisor's position with a pharmaceutical company.
Offering over twenty years clinical and teaching experience in the diagnosis, assessment and management of Respiratory Conditions within primary care.
Laura Rush
Laura is a respiratory specialist practice nurse and independent respiratory nurse specialist. A large part of her clinical role involves the diagnosis and management of complex patients with respiratory conditions with the aim of providing accurate and timely diagnosis, management in line with best practice and reducing referrals to secondary care.
Laura is a core member of the Asthma Right Care team and sat on the Primary Care Respiratory Society (PCRS) Education Committee for 4 years. She was a contributor to the PCRS Fit to Care document which acts as guidance as to the skills, knowledge and training required by healthcare professionals working with patients with a respiratory condition, something she is passionate about and would like to see standardised. Laura has been part of the Primary Care Respiratory Academy speaker faculty since 2017 and has spoken at many conferences as well as being a part of various steering committees and advisory boards including the IMP²ART Advisory Group focusing on implementing supported self-management.
Laura's passion for improving care for respiratory patients including early diagnosis and appropriate management prompted her to share her knowledge and enthusiasm through an educational role to motivate and inspire other healthcare professionals to deliver optimum care. She runs her own training company, LR Respiratory Training & Consultancy.
Session Chair

Vince Mak
Dr Vincent Mak was a Consultant Physician in Respiratory and Critical Care Medicine and Clinical Director for Emergency Services at North West London Hospitals Trust from 1994 to 2013. He was also the Clinical Director of the Outer NWL Integrated Care Program, and Whole Systems Integrated Care. He was a core member of the NHS London Respiratory Team and Clinical Network from 2010-2018. His current role is a Consultant Physician in Respiratory Integrated Care at Imperial College Healthcare Trust.
He was the Clinical Director of the NHS London Respiratory Clinical Network until Oct 2020 and now leads the Accurate Diagnosis workstream. He chairs the NHS LPP Responsible Respiratory Prescribing workstream and clinical lead for the Rightbreathe.com website. He is a member of the PCRS Executive.
Register Now
---
The views expressed by speakers or other thirds parties in this series of ARC webinars are those of the speaker or third party and not necessarily of PCRS. Whilst every effort has been made to ensure the information and guidance is accurate, it is impossible to predict all the circumstances in which it may be used and PCRS assumes no responsibility or liability for any errors or omissions made in the content of these webinars. All webinars delivered by PCRS are provided for informational and educational purposes only. Their content should not be considered applicable to all situations or patients. Neither do the contents negate the requirement for comprehensive assessment of patients or the importance of discussing the benefits and risks of intervention with patients, their families and caregivers. Where links are provided to other sites and resources of third parties, these links are provided for your information only. PCRS neither endorses not accepts responsibility for the contents of third party sites or resources. For more information see our Website Terms and Conditions
---
Derivation:
PCRS Produced / Collaboration