Laura Rush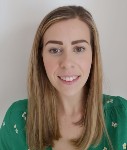 Laura is a respiratory specialist practice nurse and independent respiratory nurse specialist. A large part of her clinical role involves the diagnosis and management of complex patients with respiratory conditions with the aim of providing accurate and timely diagnosis, management in line with best practice and reducing referrals to secondary care.



Laura is a core member of the Asthma Right Care team and sat on the Primary Care Respiratory Society (PCRS) Education Committee for 4 years. She was a contributor to the PCRS Fit to Care document which acts as guidance as to the skills, knowledge and training required by healthcare professionals working with patients with a respiratory condition, something she is passionate about and would like to see standardised. Laura has been part of the Primary Care Respiratory Academy speaker faculty since 2017 and has spoken at many conferences as well as being a part of various steering committees and advisory boards including the IMP²ART Advisory Group focusing on implementing supported self-management.



Laura's passion for improving care for respiratory patients including early diagnosis and appropriate management prompted her to share her knowledge and enthusiasm through an educational role to motivate and inspire other healthcare professionals to deliver optimum care. She runs her own training company, LR Respiratory Training & Consultancy.
Optimising COPD care: How can we reduce cardiopulmonary risk and premature mortality?
Friday, - in Ironbridge 1