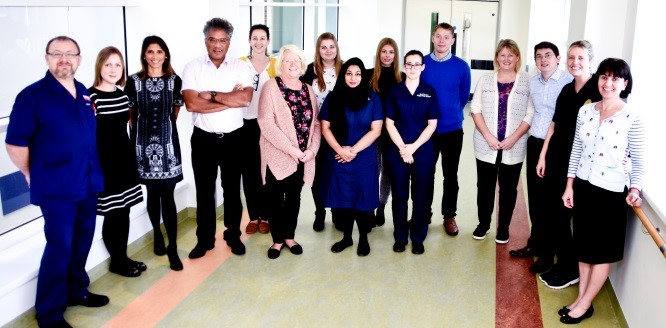 Jayne Longstaff and Emily Heiden are part of the MISSION ABC team. Alongside colleagues in the Research and Innovation department at Portsmouth Hospitals NHS Trust (PHT) and primary care, Jayne and Emily have been leading the delivery of a series of research projects aimed at improving the care pathway for patients living with respiratory conditions.
Current care pathway
Jayne explains; "The concept was to look at the current model of care for patients with long-term conditions. In particular, we looked at the journey for patients with poorly controlled asthma. Treatment optimisation can take up to two years for patients with severe disease. Our aim was to streamline the service between primary and secondary care, in order to provide an accurate diagnosis and comprehensive management plan for patients with respiratory conditions whist ensuring patients remained the focus."
Emily highlights, "Patients currently face a number of challenges when accessing healthcare. Through the delivery of the Mission ABC project, we identified and addressed a number of issues to improve the patient experience. Examples included ensuring patients could access the clinics in their local vicinity and improving communication between patients, their families and healthcare professionals in primary and secondary care."
The MISSION ABC study
MISSION ABC was a new and novel way of delivering highly specialised care for patients with Asthma, Chronic Obstructive Pulmonary Disease (COPD) and patients with undiagnosed respiratory symptoms. Jayne describes the process of proactively identifying patients with undiagnosed respiratory symptoms or those with poorly controlled disease by using electronic GP patient registers. "Patients were invited to attend a comprehensive medical assessment of their condition to help improve their disease control and quality of life within a GP practice local to them. The model has changed the way services for patients with respiratory conditions are currently delivered and is easily transferrable to other long-term health conditions."
Emily explains, "Initially, patients attended a rapid clinical review. They were reviewed by the multi-disciplinary respiratory team using a carousel-style clinic process. Each patient was reviewed by a specialist respiratory nurse, physiologist, physiotherapist and physician. All patients had their diagnosis confirmed, their treatments optimised and personalised management plans discussed. Families and friends were encouraged to attend the clinic for ongoing support and primary care staff were invited to partake in the study to ensure consistency of care. Jayne says, "Education for healthcare professionals and patients was a priority to ensure patients were empowered to take ownership of their health and to improve the confidence and knowledge of healthcare providers. Patients felt really privileged that a team of specialists wanted to spend time looking after them and felt better equipped to manage their symptoms in the future."
Jayne says, "After their review, patients and healthcare professionals were overwhelmingly positive and we had some incredible plaudits. Many described how Mission ABC had changed their lives for the better. One particular patient said, "It's the best care that I've ever had and, having it all under one roof, it was just incredible."
Benefits of research
Jayne explains, "Everybody should take part in research because, without research, how would we develop the NHS? People often think of research as taking part in a commercial study and that it can involve invasive procedures or taking new medications, but it's not. The Research and Innovation team at PHT deliver a number of different studies in a variety of conditions, which may involve simply completing questionnaires, testing new technologies or taking part in quality improvement studies. Research doesn't necessarily have to be in a hospital setting. It can be anywhere - in your GP practice, in a pharmacy or even at home."
"Taking part in research can have a phenomenal impact. There are changes that you can make, not just for the NHS or for the future, but also for your own care." Jayne comments, "Research has changed people's lives for the better."
MISSION ABC's legacy
Emily concludes, "A key part of MISSION ABC was delivering sustainable respiratory education and leaving a legacy of understanding for both patients and healthcare providers.
MISSION ABC's success has inspired several sustainable projects nationally. These include the development of long-term condition hubs that are aimed at supporting patients with long-term conditions, based on the Mission ABC model.
The results of MISSION ABC are expected later this year. In the meantime, the team have been busy developing a website to share what they have learnt. You can find out more about MISSION, including patient testimonials and video content, at https://missionabc.uk/
The MISSION projects, which are part of the NIHR CRN portfolio, have been funded by Pfizer's Health Foundation, Novartis Pharma AG and Airsonett UK LTD. The projects are sponsored by Portsmouth Hospitals NHS Trust.