Duncan Keeley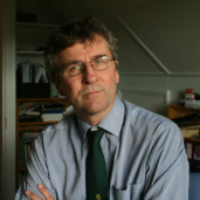 Duncan Keeley is Policy Lead on the Executive Committee of the Primary Care Respiratory Society – UK. . He has special interests in respiratory medicine and medical education.

He now works as a portfolio GP and GP appraiser after 24 years as a GP principal at the Rycote Practice in Thame, Oxfordshire. He is an honorary tutor in general practice at the Department of Primary Care, University of Oxford. He was a GP Trainer from 1995 – 2013.

He studied medicine at Cambridge University and The London Hospital. He trained in general medicine and paediatrics in London and then spent three years working as a paediatrician at Harare Central and Chitungwiza hospitals in Zimbabwe before entering general practice. He was an editorial adviser for the British Medical Journal from 1991 – 2001. He was a member of the Ethics Committee of the Royal College of General Practitioners from 2007-2013.
Duncan Keeley

Bands:

A Less than 2% of gross annual income
B Between 2% and 10% of gross annual income
C Any payment between 10% and 20% of gross annual income


All interests declared are for the previous calendar year

Section 1: Paid Work / Personal Income

A. Employments (including partnerships)

I am not an employee, paid director and / or partner of an organisation




B. Other paid positions / work

I do not receive personal income from the pharmaceutical industry or any healthcare related organisation(s) (except any employee salary or partnership interest declared in Section A)