In memory of Dr Iain Small
Category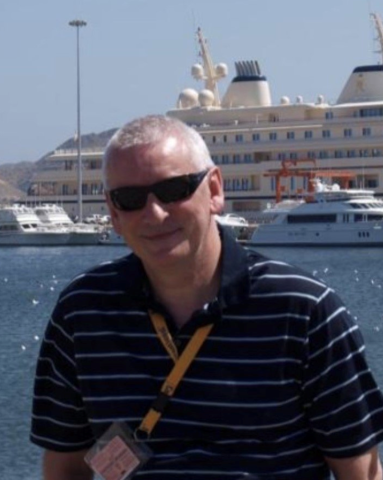 Dr Iain Small (Chair of the Primary Care Respiratory Society 2008 – 2013)
(Born 11/02/1961 Died 20/06/2023)
Iain was a major contributor to PCRS over 20 years and was known to many in the PCRS family as well as the wider respiratory world – a previous chair of PCRS, chair of the education committee and editor of the Primary Care Respiratory Update he will be sadly missed in our organisation.
Iain was born into a medical family his father being Director of Public Health in the Grampian region. He went to medical school in Dundee and moved smoothly into general practice (at a time when training posts were incredibly competitive, and usually partnerships had more than 100 applicants). He served as a general practitioner following his training in Peterhead a town that he worked tirelessly for. He worked through the times of long hours, working over weekends on top of the normal working week – and helped to support medical services in a local prison, was the medic for Peterhead FC for more than 20 years, and in keeping with the more urban nature of his practice supported a local emergency department over many years. He was a general practice trainer for much of his career – and trained and inspired many GP colleagues during this time. His work was recognised in his faculty of the Royal College of General Practitioners as being exceptional.
Iain was also a strong stalward of the Peterhead pantomime (helping to direct, create scene sets, taking roles as the villain or pantomime dame at times over many years – indeed Iain was helping support this years pantomime as a director). Iain also supported his locality with the ROCK challenge helping disadvantaged school children again to be involved in the performing arts. Peterhead managed to develop a national presence in this role. Iain was recognised last year as an outstanding life time achievement award in Peterhead for his commitment to the town.
Iain married Christine, a General Practice Nurse working in the same practice in Peterhead, during medical student days – and they have four wonderful children Stewart, Lorna, Claire and Alison, and as Iain described it he is 'papa' to four grandchildren (Oliver, Eleanor, Hannah and Nathan). They holidayed regularly caravanning and on some trips to Disneyland in Florida as especial family treats. Those of us who were privileged to know Iain – heard lovely positive tales of his work in Peterhead as well as his wonderful wife and family and their holidays and activities.
Within PCRS Iain joined the Executive Committee in 2002 at a time it was called the General Practice Airways Group, he took over chair of the education committee in 2005 – 2008 and became chair of PCRS between 2008 – 2013. Iain's first meeting as chair involved the name change to the Primary Care Respiratory Society and he was passionate about good quality care – and multiprofessional team working throughout his career. He remained on the committee until 2021 more latterly in his role as editor of the Primary Care Respiratory Update.
He worked tirelessly promoting PCRS, promoting integrated care and leading the organisation as chair – but supporting thereafter. He published widely with a mix of research, guidelines (including the BTS / SIGN asthma guideline for a period of time and a seminal paper on spirometry in primary care in 2007) as well as opinion pieces;
Iain was a brilliant speaker and educator – informing and inspiring colleagues at many of our conferences as well as working with groups of educators in other environments (Future forum and Network meetings around the UK). He was well known and respected by many primary care and specialist colleagues nationally and globally – and had the ability to challenge in a positive creative way. Iain attended most PCRS conferences over the last 20 years as well as regularly being part of the Winter BTS and European Respiratory Society meetings. He was a friend to many colleagues across boundaries and always had time to listen, talk and share ideas.
Iain adapted the Donald Schon "swamp where the work goes on and ivory towers of academia" regularly when talking about the "great unwashed" – the many clinicians across boundaries who did not have the same passion for respiratory as specialists did – and this analogy helped at many times to understand the needs of a generalist clinician compared to a clinician who is orientated to one disease or organ.
He was a talented musician and entertainer, he was a skilled water colourist who created amazing landscapes that were as good as many professionals and also a few years ago was running marathons – and doing charity work for the British Lung Foundation (biking 50miles per day for charity). He was a trustee for Asthma UK in the past and worked as a Medical Director in Grampian during the pandemic helping to develop and lead the rapidly changing demands of services in that area.
For the many of us who knew Iain he will be sadly missed for his leadership, passion, humour and drive. Iain had a gentle supportive sense of humour (and was proud to be Scottish, enjoying gentle jibes at those south of the border if we forget the wider UK picture). He also challenged positively any narrow viewpoints - no matter who expressed this, nor their global stature). He genuinely cared for clinicians across boundaries, for educating and for improving respiratory care – as he did care for his family and friends.
We will miss Iain but must thank him for his inspirational support for PCRS over time and for his humour and wisdom.
With kind permission from Iain's family:
For those unable to attend, Iain's Thanksgiving Service can be viewed on Friday 30th June at 1.30 p.m. using this link.