Category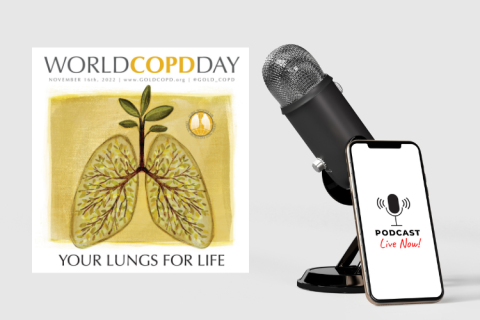 World COPD Day, 16th November, is organised by the Global Initiative for Chronic Obstructive Lung Disease (GOLD) in collaboration with health care professionals and COPD patient groups throughout the world. Its aim is to raise awareness, share knowledge, and discuss ways to reduce the burden of COPD worldwide.
Your Lungs for Life
The 2022 theme for World COPD Day will be "Your Lungs for Life", which aims to highlight the importance of lifelong lung health. It will focus on contributing factors to COPD from birth to adulthood and what we can do to promote lifelong lung health as well as protect vulnerable populations. Get prepared for the day with this joint podcast between GOLD and COPD Foundation discussing this year's theme, "Your Lungs for Life".
The GOLD International COPD Conference will be held on World COPD Day. Don't miss out on the most up-to-date strategies for the diagnosis, management, and prevention of COPD. There is still time to register.
Tune in to the PCRS podcast
To mark World COPD Day we have recorded a special podcast exploring the topic of Exacerbations in COPD. Featuring Dr. Fiona Mosgrove in discussion with Professor of Respiratory Medicine and Senior Clinical Lead for the Royal College of Physicians National Asthma and COPD Audit Programme, Professor John Hurst.
PCRS members can access from the 16th November.
Promoting your activities
Are you planning an event or activity to mark World COPD Day? Tell us about it or tag us in your social media posts and we will share with our followers.
The PCRS Challenging perceptions of COPD campaign seeks to change attitudes to COPD, by shifting the narrative and focusing on what HCPs can do to more effectively support their patients.