UK hotspots with highest emergency admission and death rates for lung conditions revealed
Category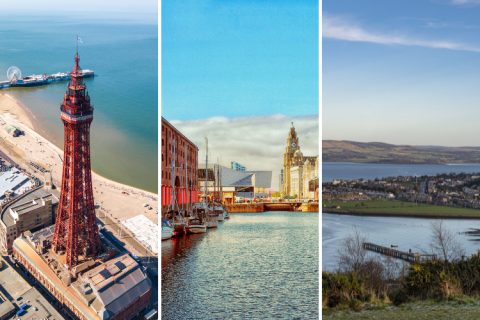 People in places such as Blackpool, Liverpool and Inverclyde are amongst the most likely to be admitted to hospital in an emergency and die from their lung condition in the UK, according to new analysis from leading lung charity Asthma + Lung UK.
The charity is urging UK governments to ensure everyone gets an early diagnosis for their lung condition and once diagnosed receives support and information, as well as tackle unacceptably high rates of air pollution and smoking, which lead to lung conditions developing and worsening.
The charity, which has launched its End the Lung Health Lottery campaign, analysed and ranked the latest rates of emergency hospital admissions and deaths from lung conditions including asthma, chronic obstructive pulmonary disease (COPD) and respiratory infections like flu and pneumonia, for 216 local authorities throughout the UK.
Asthma + Lung UK says that despite the tireless work of NHS doctors and nurses across the whole of the UK, basic levels of care for people with lung conditions is patchy. The reasons for such high rates of emergency admissions and deaths in some areas is likely due to health inequalities.
Many of the areas with poor lung health are areas where people experience higher levels of deprivation, which can lead to problems like having no choice but to live in poor quality housing, where cold, damp and mould can all be triggers for asthma attacks or cause lung conditions to worsen.
They are also areas with historically higher smoking rates. These factors mean that even if people were able to move to areas with lower emergency admissions and death rates, they wouldn't necessarily experience better outcomes for their lung condition if underlying causes such as smoking, poor housing and exposure to air pollution aren't addressed.
In addition, across the UK, an historic lack of investment into lung research and innovation has also contributed to poor lung health.
Asthma + Lung UK's analysis found:
Knowsley, Inverclyde, Salford, North Ayrshire and Blackburn with Darwen topped the rankings as having the highest rates of emergency hospital admissions and deaths for lung conditions in the UK
York, Bracknell Forest, Barnet, Kensington and Chelsea, and West Sussex had the lowest rates of emergency admissions and deaths for lung conditions in the UK
Within England there is a North-South divide when it comes to poor lung health. Places in the North-West of England make up over half (6/10) of the areas ranked highest for emergency admissions and deaths across the UK. These places were Knowsley, Salford, Blackburn with Darwen, Liverpool, Blackpool and Manchester. Many of these areas where people experience poor lung health such as Blackpool, Manchester, Knowsley and Liverpool are also areas where people experience higher levels of deprivation
Some of the areas facing high death and emergency admission rates also have increased levels of air pollution. Levels of PM 2.5, the most dangerous type of air pollution to human health, in Blackpool (ranking at number 210) are four times higher than levels in the Shetland Islands in Scotland, which has one of the lowest emergency admission and death rates (ranking at number 13)
High smoking rates in some areas also play a part in the high rates of emergency admissions and deaths seen, for example, in Blackpool, where an estimated fifth of the adult population smoke.1
Government recently announced it would be scrapping its health inequalities white paper. However, with the analysis showing areas with high rates of deprivation like Blackpool having death rates from lung conditions over two times higher than more affluent areas such as The London Borough of Richmond, and Rutland in the East Midlands, Asthma + Lung UK says health inequalities must be urgently addressed.
Asthma + Lung UK, who last year offered a listening ear to more than 17,000 people with asthma or another lung condition through its Helpline team, had 12 million views via its website and has 150 support groups UK-wide, is now urging Government to prioritise lung conditions in its upcoming Major Conditions Strategy.
This should include ensuring everyone with a lung condition gets diagnosed early so they are better able to manage their condition and are more likely to get treatment before it worsens, which would help reduce emergency hospital admissions. The charity is also concerned that vital diagnostic testing for lung conditions was suspended during the pandemic and in many areas is not fully back up and running again.
Currently, in the UK lung conditions are the third biggest killer yet they only receive 2% of public investment into research. The charity is therefore urging the Government to increase funding for research and innovation into lung conditions that could save and transform millions of lives.
Asthma + Lung UK previously found that people with a lung condition are more likely to die in the UK than anywhere else in Europe.
Find out more and get involved in the End the Lung Health Lottery campaign.
---
1. The percentage of current smokers in Blackpool is based on ONS survey data.